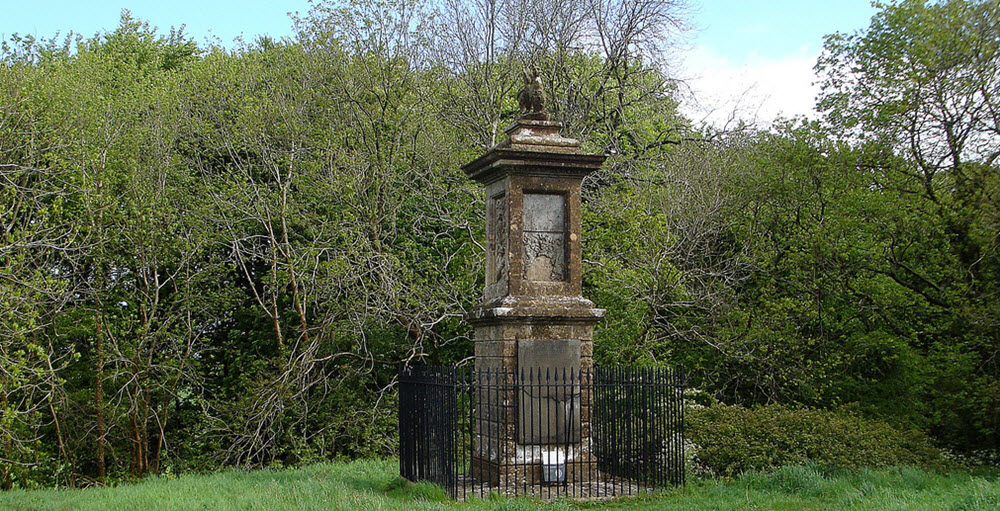 The site of the Battle of Lansdown in July 1643 is marked by a monument to Civil War commander and Royalist Sir Bevil Grenville, who was mortally wounded in the fight. The monument, erected in 1720, is found approximately 4 miles (6.4 km) north-west of Bath in Somerset.
On the monument, an Elegy on Sir Bevil Grenville is inscribed. The elegy was written by William Cartwright, a fellow Royalist who also died in 1643.
This was not Nature's courage nor that thing,
We valour call which Time and Reason bring,
But a diviner fury fierce and high,
Valour transported into Ecstasy.
The monument came to exist thanks to the efforts of Bevil Grenville's grandson George Granville, 1st Baron Lansdowne. He also erected a mural monument to honour his grandfather in the Grenville Chapel in the Church of St James in Kilkhampton, Cornwall.
Short facts about Sir Bevil Grenville's Monument
Official name
Monument to Sir Bevil Grenville at NGR ST 7219 7034
Designations
Listed Building – Grade II*

Designated on 1 February 1956

Reference #1214434

Scheduled monument

Designated on 12 December 1950

Reference #1015110

Coordinates
51°25′53″N 2°23′58″W
Description
The 25 feet (7.6 meter) high English Baroque-style monument of ashlar stone masonry is topped by a griffin holding an escutcheon displaying the Grenville coat of arms: Gules, three clarions or.
The northern side of the monument features two poems. On the south side of the monument, you'll find a slate tablet inscribed with a quotation from the account by Lord Clarendon (1609–1674) in his "History of the Rebellion and Civil Wars in England of the Battle of Lansdowne", published in 1643.
The monument also displays the Royal Arms of King Charles II,supported by the arms of Sir Bevil's eldest son and heir John Granville, 1st Earl of Bath, and by the arms of the latter's half first cousin General George Monck, 1st Duke of Albemarle, KG.
Since it was erected in 1720, the monument has been repaired several times, including major repairs in 1777, 1828 and 1879 funded by Grenville's descendants.